After more than a year of rescheduling travel plans and social events, airport appearances are making a comeback this season, to take the fashion game to the next level, as India slowly returns to its roots. pre-COVID phase. From classic and minimalist to chic and trendy, and everything in between, we've got you covered. Check out some interesting airport looks from local designer labels …
ALL WHITE INDO-WEST SET

Archana Shah's kurta-pants jumpsuit amplifies the fashion game with a touch of effervescence and abstraction. The mesh pattern on the sleeves and pants adds a funky touch to the Indo-Western outfit.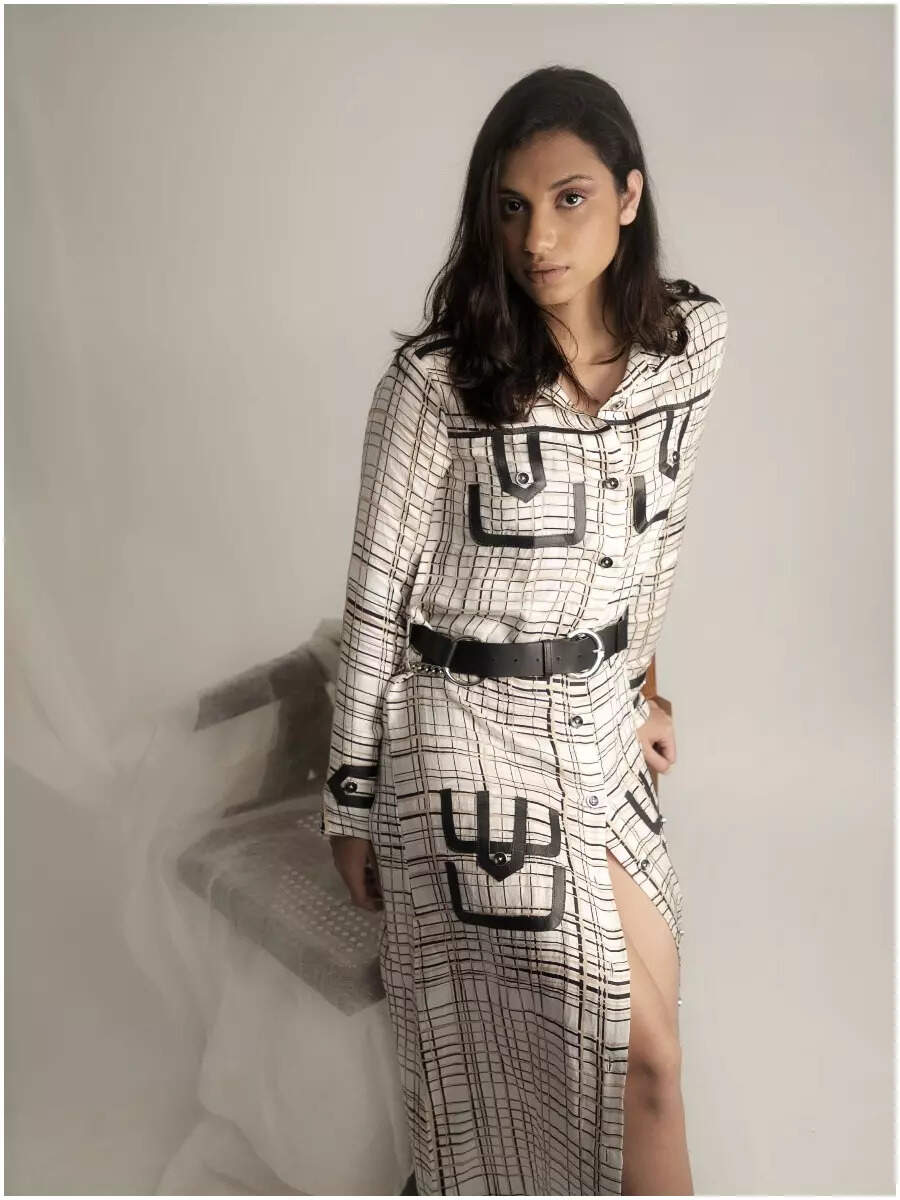 BLACK AND WHITE LEATHER DRESS
Devina Juneja's striped leather dress is a fashionable fusion of classic and contemporary. The central slit combined with the funky black patterns stand out among the formal elements of the dress and make the look suitable for airport appearances and travel.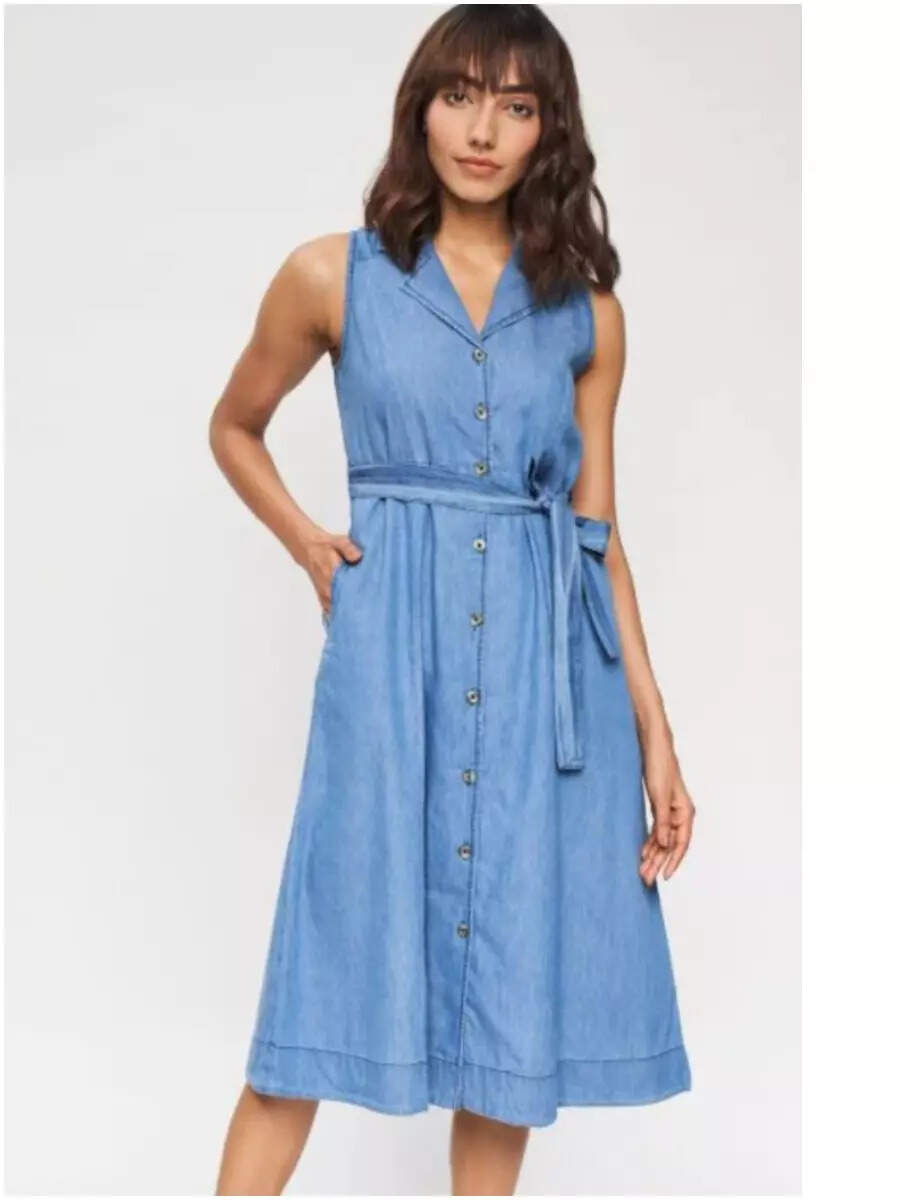 ELEGANT SHIRT DRESS WITH TAILORED COLLAR

AND's cool blue shirt dress is the perfect fashion statement for a day of travel. Whether it's the tailored collar, flowing pattern, matching belt and buttons, or comfy fabric, this dress is an ideal choice for tackling airport shenanigans, yet looks classy.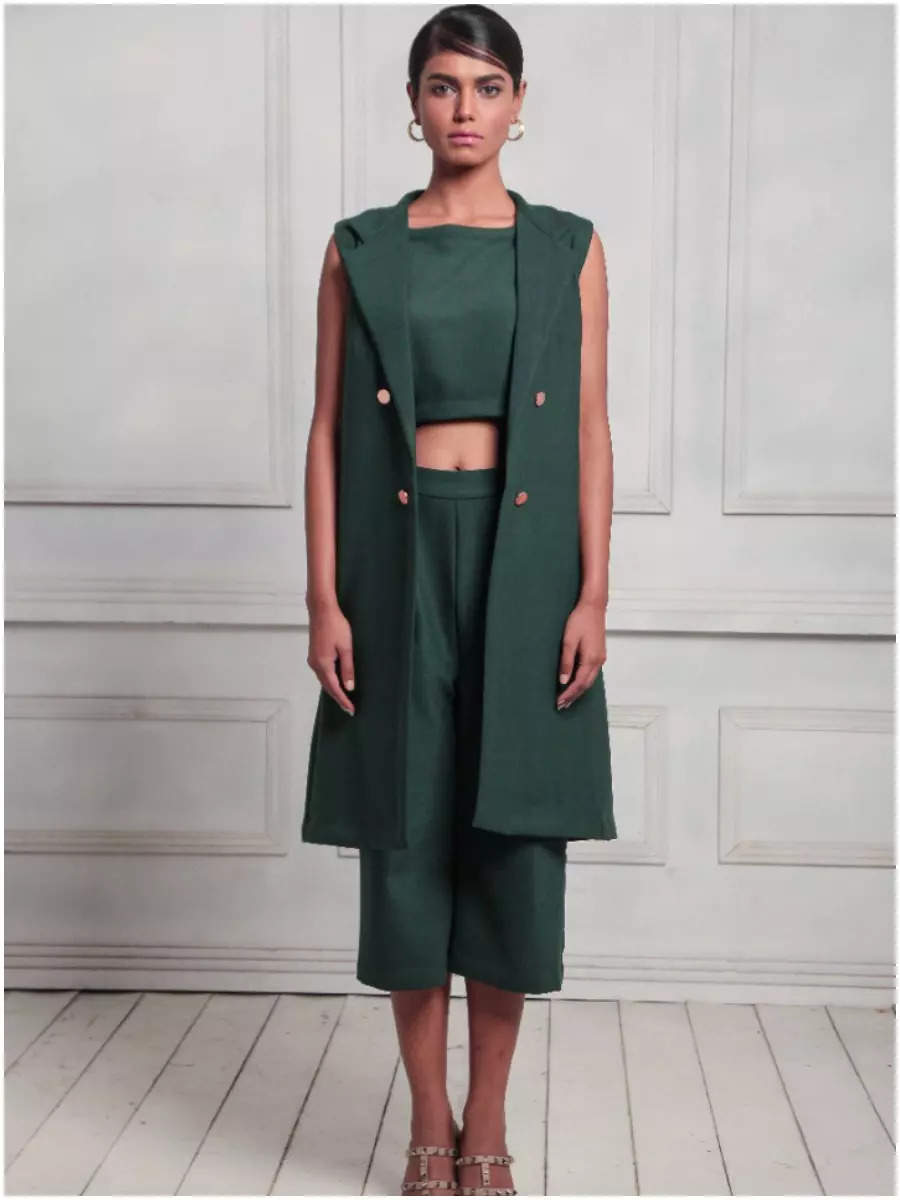 CLASSIC THREE-PIECE OUTFIT

In line with Couche's luxury ready-to-wear collection, this sacramento green ensemble is a blend of chic style and timeless appeal. The classic overcoat paired with the crop top and trousers add to the modern fashion sensibility of this outfit, which exudes comfort.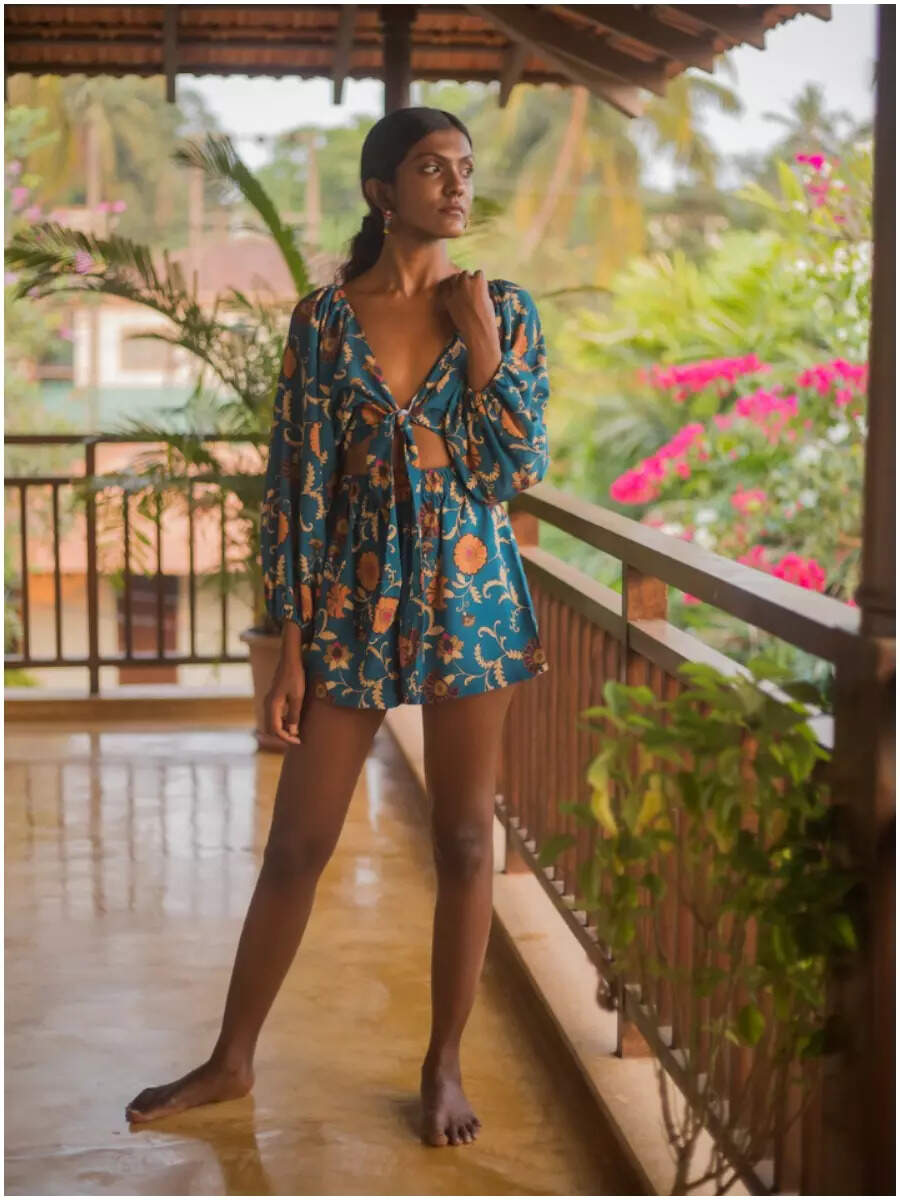 BOLD AND BEAUTIFUL FLORAL BOUQUET

The holiday season has officially started and there is no better way to flaunt your holiday vibe than by giving your airport a touch of style with this sultry, bouncy, straight out of the vacation look. by Flirtious. This teal blue outfit is the best antidote to conquering stress and work blues with a touch of oomph and sizzle.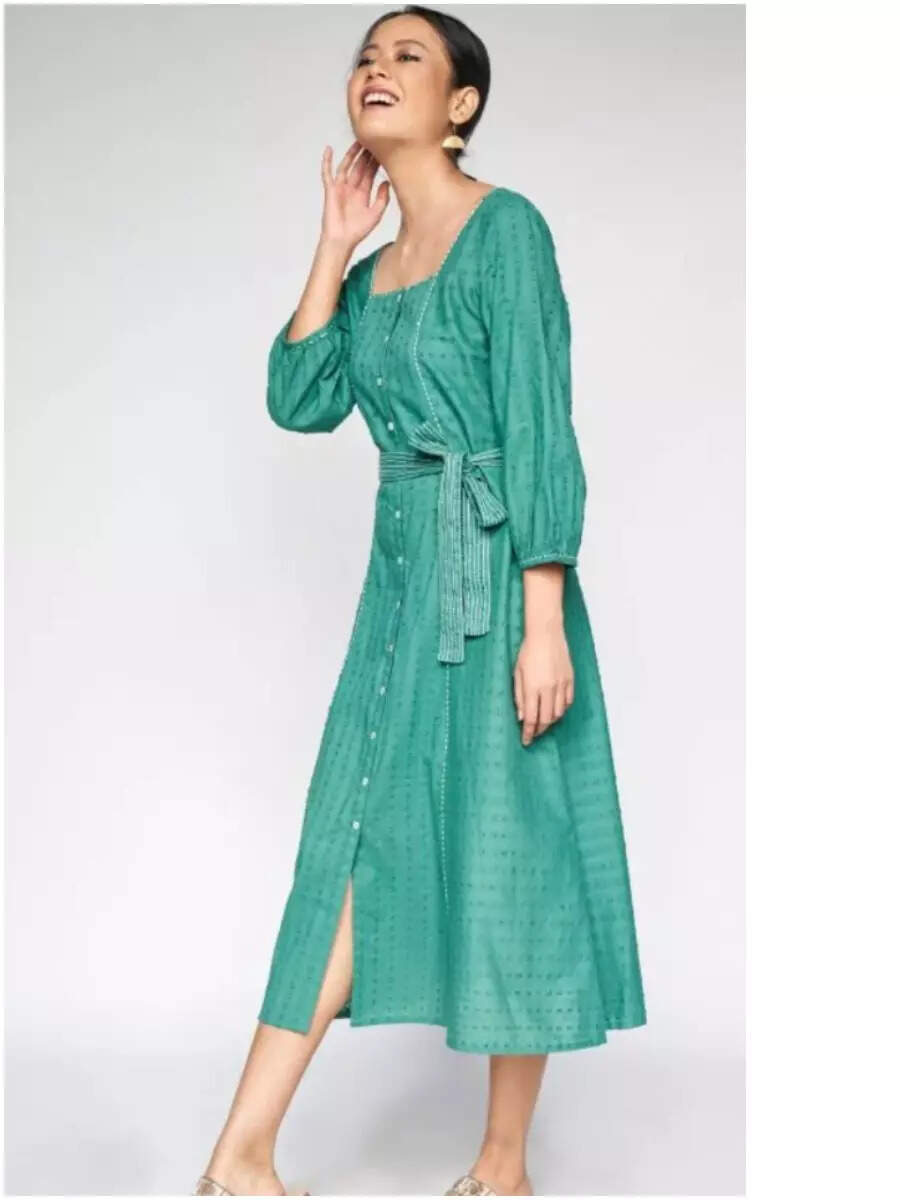 DOSE OF COMFORT, CHIC AND CHARM

Global Desi's Tiffany blue one-piece outfit adds a rather seductive appeal to a semi-casual look, with its chic fabric, center slit and matching belt. With this one, you certainly don't have much to worry about your ease and comfort during all the airport formalities.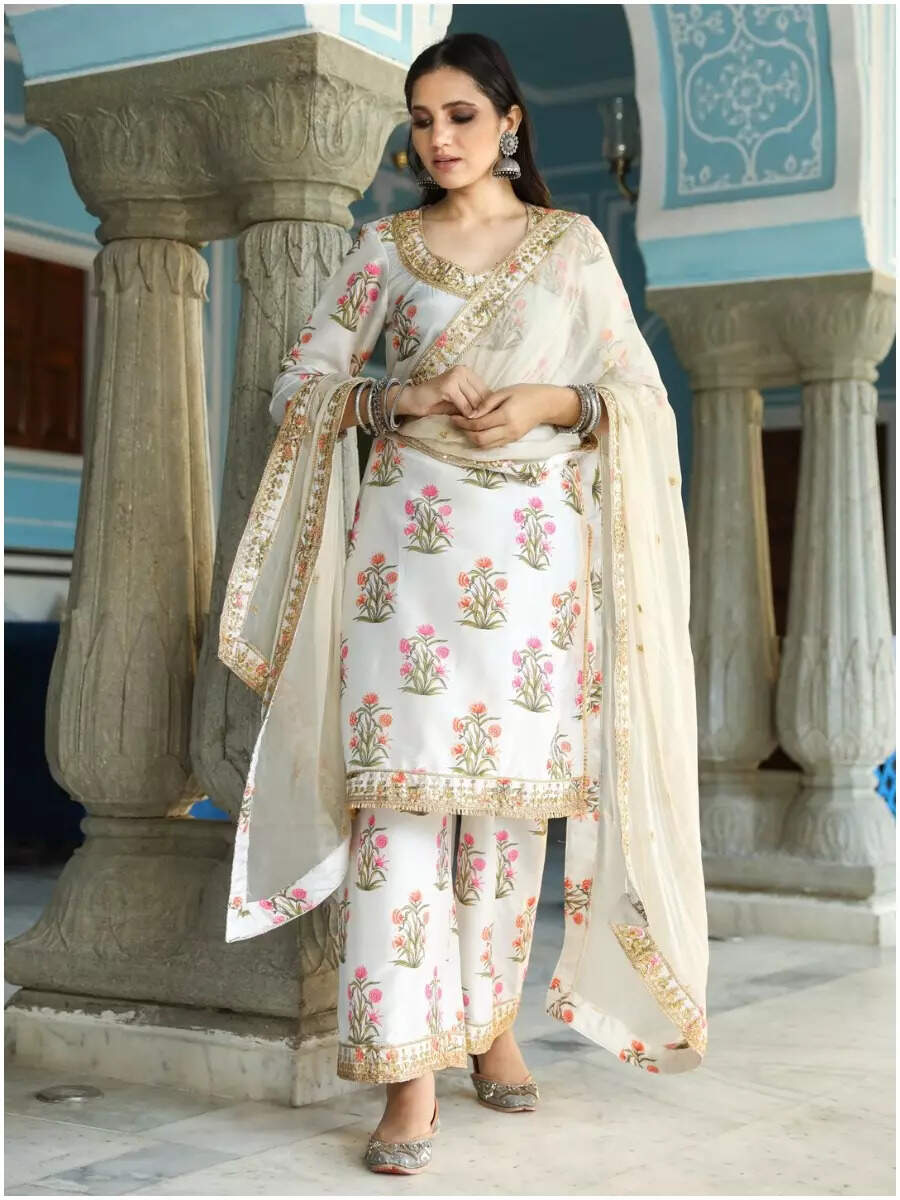 CLASSIC WHITE AND GOLD FLAVOR

The traditional ensemble of Gulaabo Jaipur is quite the airport look, with its vibrant patterns, chic fabric and understated elegance. The mesh dupatta and white base of the kurta and pants, combined with a gold piping, give a refreshing appeal to this look that reeks of femininity and traditional class.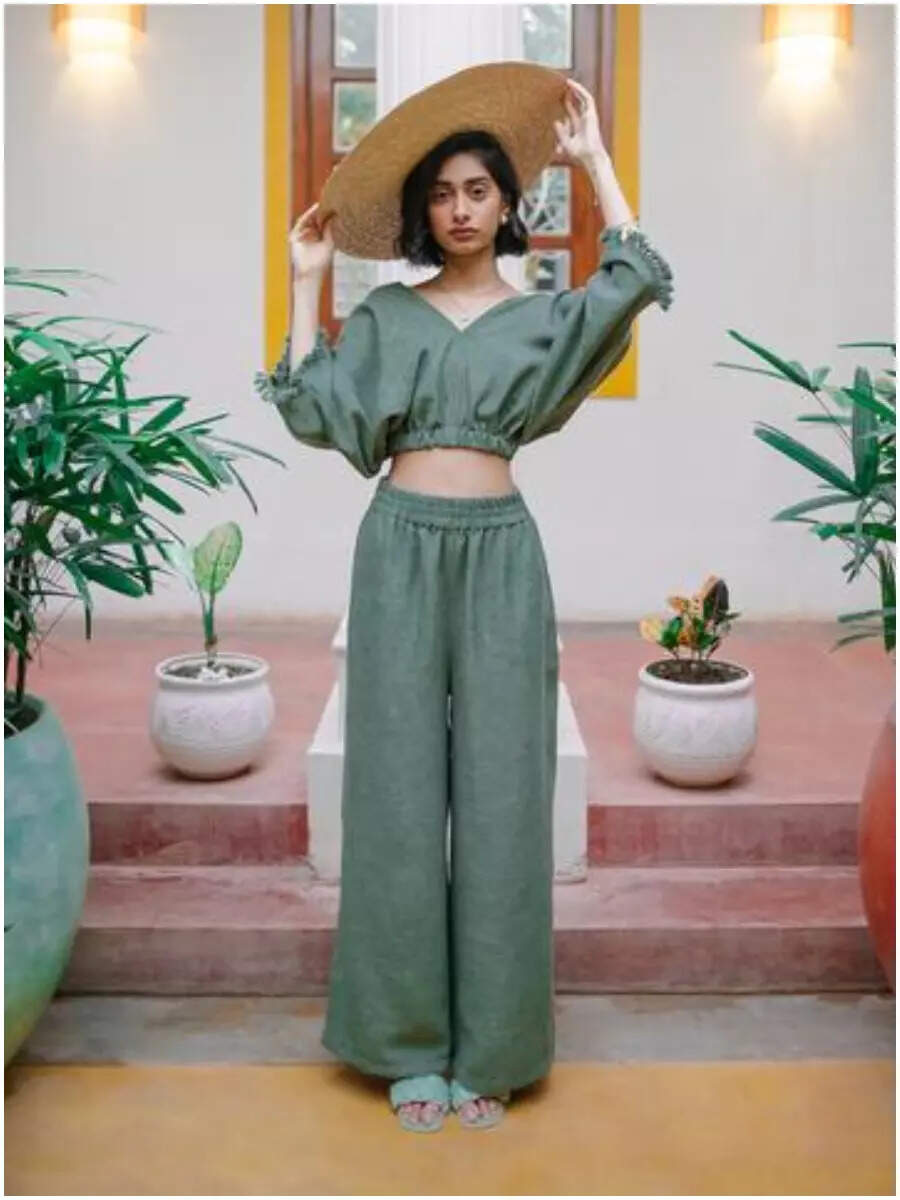 CONTEMPORARY CREATIVITY ON THE MOVE

The sage green cropped top and palazzo pants from House of Fett are your answer to 'tell me you're ready for a vacation without telling me you're ready for a vacation'. While the V-neckline and oversized sleeves add funky appeal, the solid, loose-fitting pants balance the vibe of the look.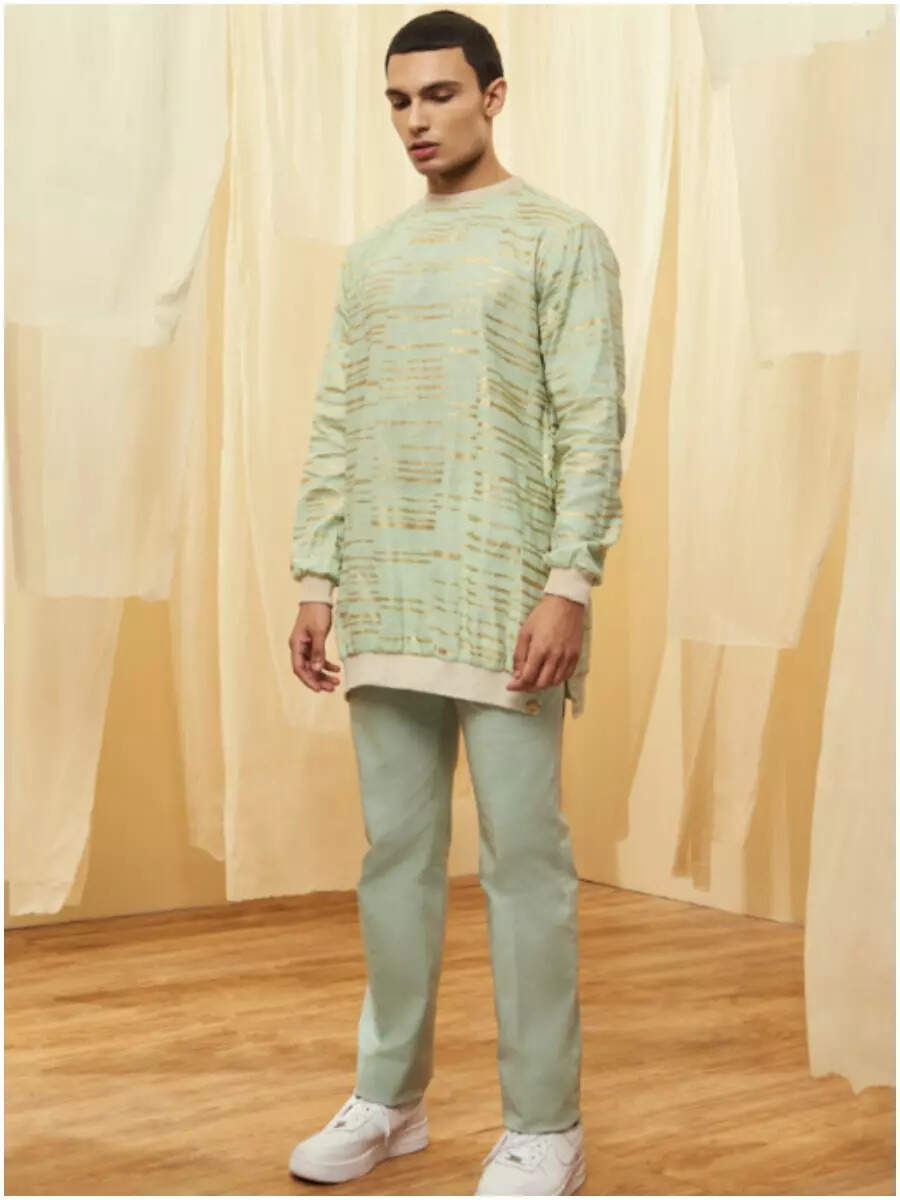 A TRENDY APPEAL WITH THE KURTA STYLE T-SHIRT AND OFF WHITE PANTS

Nail that minimalist ready-to-wear look while ditching fashion goals with Kunal Anil Tanna's meritorious jumpsuit of a gold striped kurta-style tee and plain pants, which is sure to catch the eye. many eyes.


TRADITIONAL CANDY POP STYLE STATEMENT

Neha Chopra's pink and blue Anarkali suit is a feast for the eyes, and this flowy Indian outfit is sure to liven up the airport landscape with its sparkle and vibrancy. The floral designs on the dupatta only add to the charm of this feminine ensemble.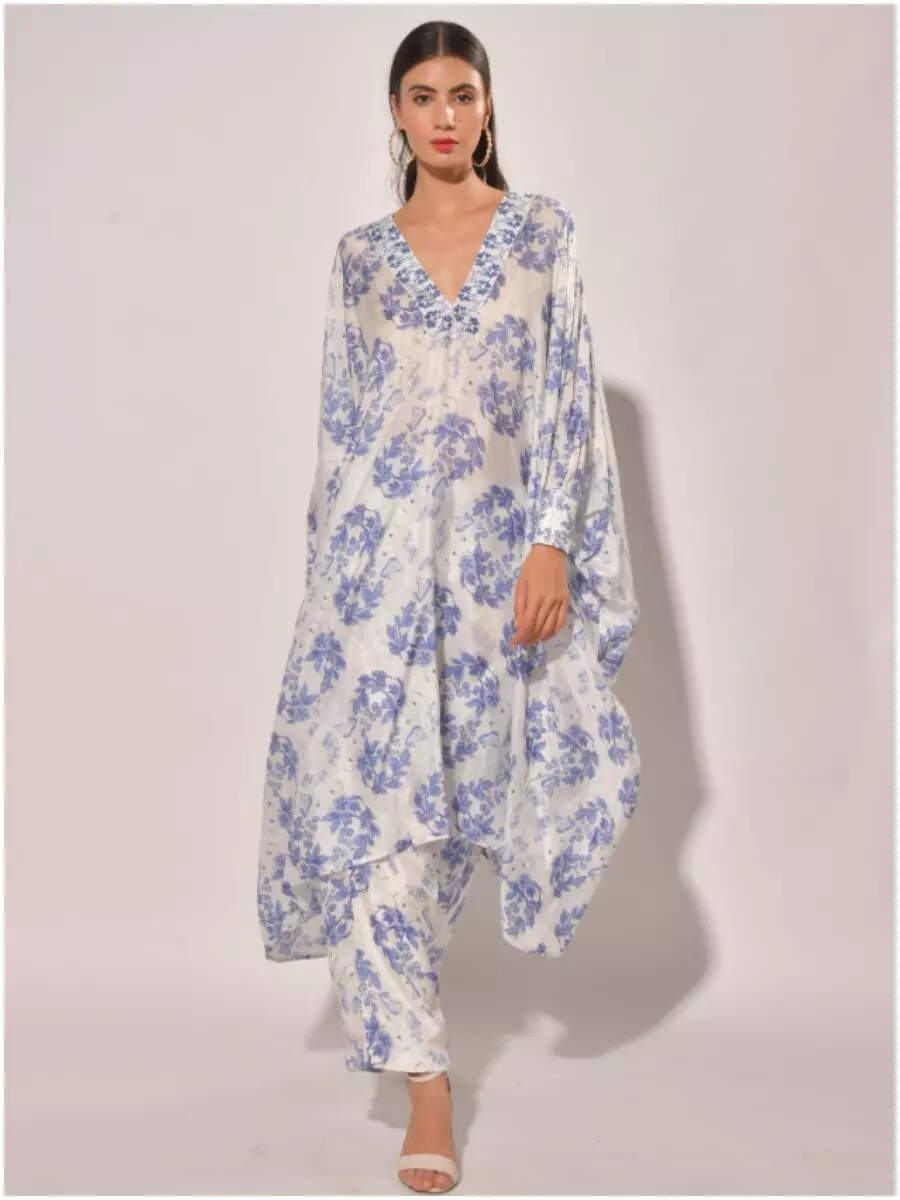 INDO-WEST CREATION INSPIRED BY ART

Blue floral patterns on a white background lend a sophisticated and refreshing charm to the kurta and pant jumpsuit from Prints by Radhika. The loose, flowing pattern of the kurta and the pointed neckline gives the outfit an edge to the Indo-Western look, which says a lot about the comfort.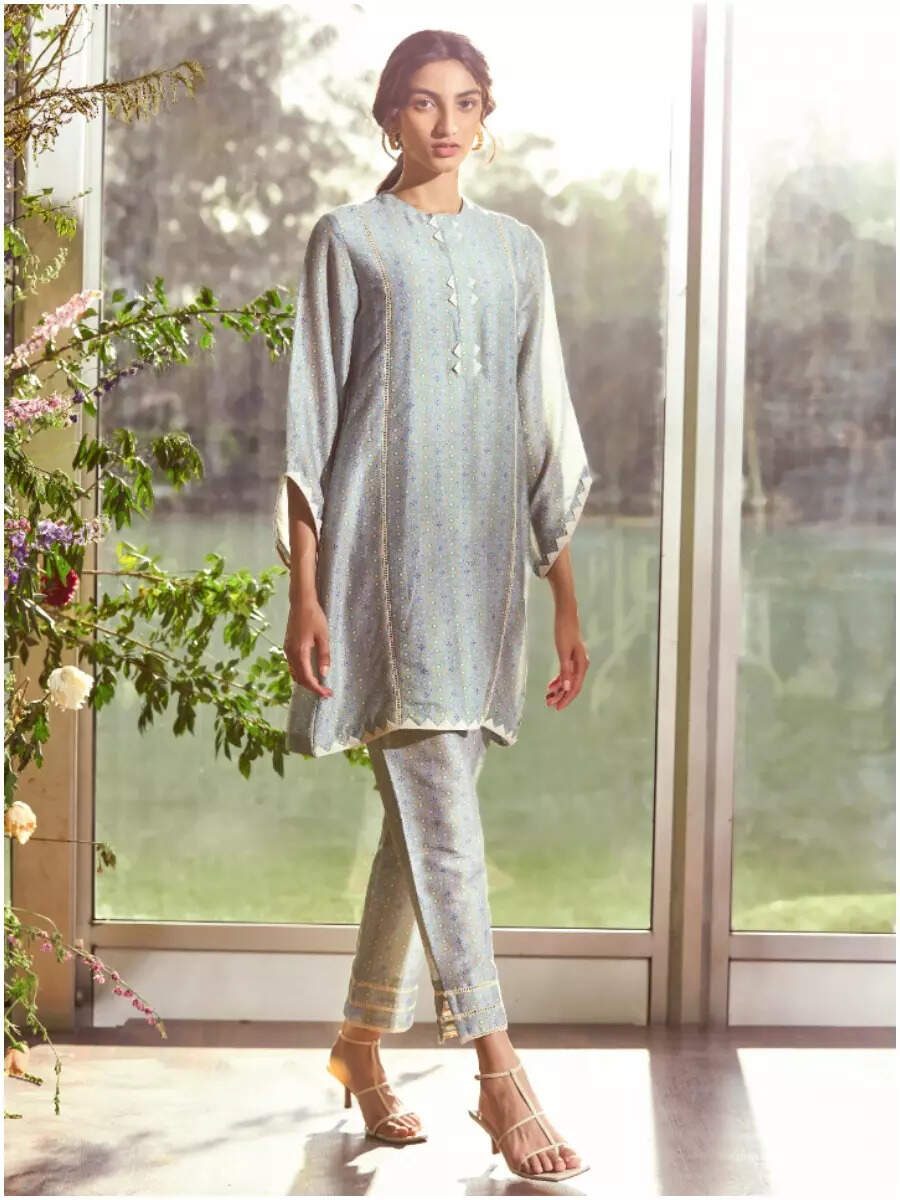 EXTRAVAGANZA DAPPER COUTURE

Ridhi Mehra's semi-traditional outfit exudes dapper and luxury in equal measure. Whether it's the crisp cuts, premium fabric or the classic color palette, every element of the ensemble reflects a regal vibe and is sure to guarantee a fair share of attention in an airport.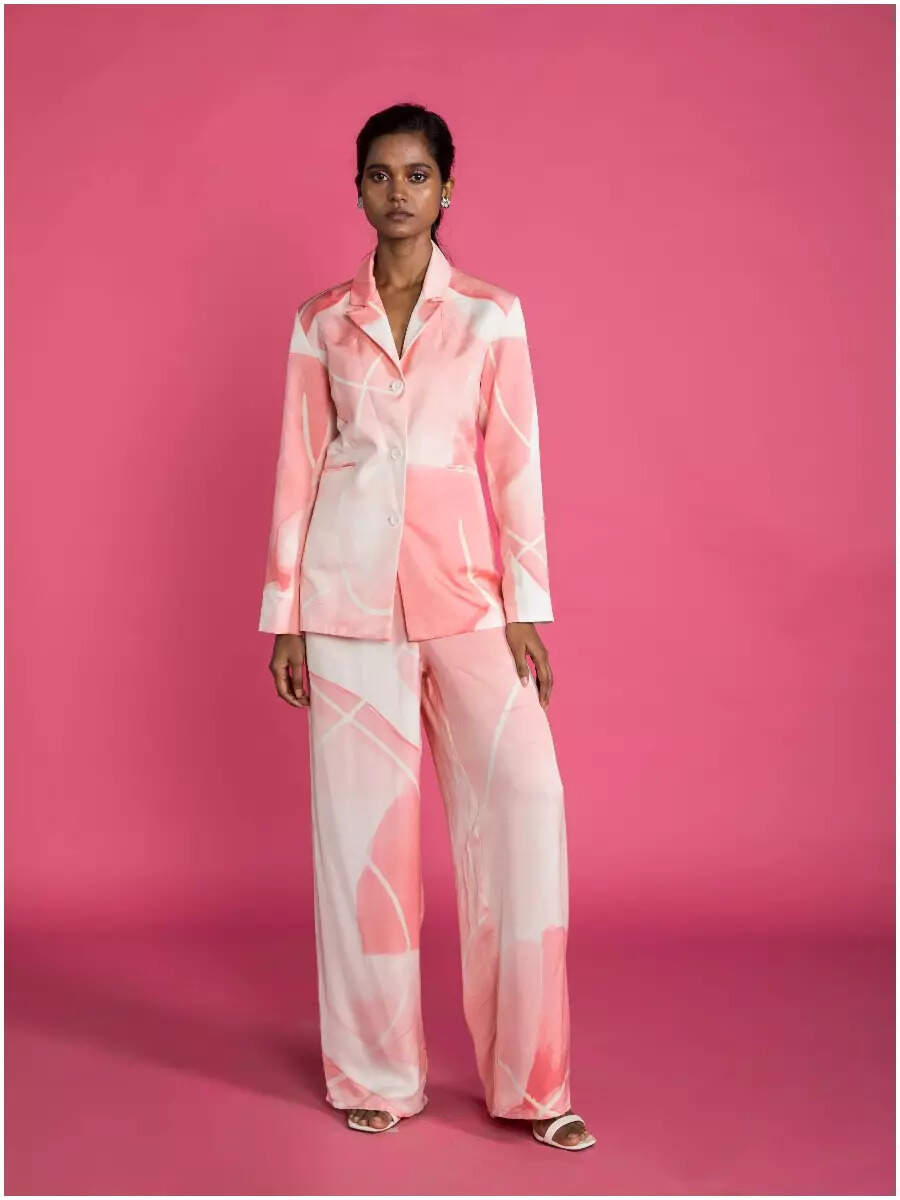 AN EXCEPTIONAL DUO OF BLAZER AND TROUSERS WITH A SURPRISE

Vedika M's classic multi-shade outfit is a classic representation of formal and informal elements, while creating an exclusive look that includes a blazer and loose pants. Let this unique creation leave a lasting impression in an airport, while reveling in the comfort of its sumptuous fabric and abstract patterns.